Producing Better, Consuming Less
PHGD's mission is to enhance understanding of complex systems and to offer practical solutions to enable customers and partners to produce better and consume less.
Committing to sustainability, in its various dimensions, is one thing. Knowing how to achieve it is something else again.
PHGD offers ideas, anchored in cutting-edge science, with a particular emphasis on the social and human sciences.
PHGD supports transitions, helping clients to audit their starting points, identify relevant responses and scope technological options.
And PHGD provides solutions through its affiliates, which cover many key areas of renewable energy.
Advice & Technical Support
At PHGD, we are committed to a collaborative view of entrepreneurship and are constantly looking for new ideas and opportunities.
So we have a steady stream of conversations on the go, whether to help other entrepreneurs do what they want to do or to identify new ventures for PHGD to invest in.
Here are two current examples.
Plug & Play Solar Panels
French start-up Evolis has developed an innovative approach to solar energy. Plug & play 600 W panels that can be set up in minutes, integrating seamlessly into any domestic network.
PHGD is currently advising Evolis on business development, to enable the full potential of the technology to be unlocked.
Paths to Sustainable Transportation
PHGD is currently advising Ecolution kWh on launching its development in Europe. By recovering kinetic energy from rolling stock, Ecolution's cutting-edge technology enables electrification of refrigerated trailers and makes it possible for every train to become a mobile power station.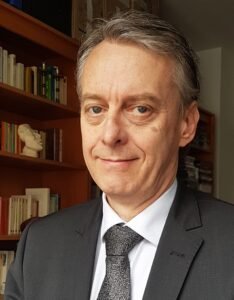 John Crowley founded PHGD in 2020 to bring together a portfolio of interests in sustainable energy and environmental regeneration. With 18 years high-level international experience in the UN system, and previous careers in oil & gas and in academic research, John combines the vision to generate new ideas with the business skills to make them work in practice.
From 2003 to 2021, John worked for UNESCO, where he led programmes on ethics of science and technology, global environmental change and management of social transformations.
From 1995 to 2002, John was a research fellow at the French National Political Science Foundation, specializing in political theory and comparative politics.
From 1998 to 1995, John worked for Total, first in corporate planning and later in North Sea exploration and production.