Solutions are important, but there's a risk of rushing into them too quickly. Are you sure you know what the problem is?
At PHGD, we build on years of experience with ideas of complexity, transdisciplinary and emergence. We know that not everything is best defined as a "problem" and that most issues can't be addressed in isolation.
The connections are the whole point.
To see the connections means stepping back from the institutional and administrative silos that typically define the problem space and – often – giving visibility to things that pass unnoticed.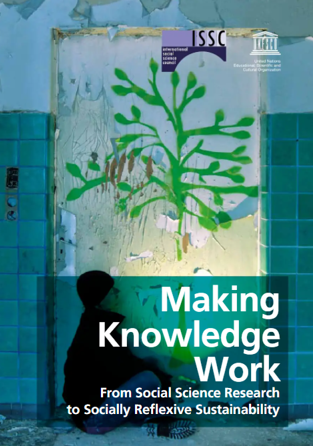 Report authored by John Crowley, published in 2012.
In the video, recorded in April 2021 (content available in French only), PHGD Chairman & CEO John Crowley discusses some of the key things that ingrained habits of thought and established institutions tend to render invisible, including in particular human and natural capital. Tools exist in many cases to integrate these forms of capital, but our literal and metaphorical balance sheets still tend to ignore them, which means, unsurprisingly, that we underestimate the importance of maintaining them.
Theorizing the Anthropocene
Energy systems are at the heart of every sustainability challenge the world currently faces, yet they remain comparatively neglected by the social and human sciences. The exception is of course economics, which in conjunction with engineering has shaped a taken-for-granted image of energy as a matter of funding infrastructure to allow it to flow.
This aspect of energy systems is important, but it is not the whole story. In this lecture, recorded for an online conference in October 2020, John Crowley discusses how philosophical and anthropological considerations can enrich understanding of energy systems, and thus also of what it would mean for them to be transformed.
Thinking about energy systems is one important aspect of the broader question of conceptualizing the Anthropocene, which underlies the whole dynamic from which the PHGD Group has emerged – with a particularly strong echo in the work of Hagrath.
The idea of the Anthropocene is orginally geological. It responds to the question how the distant future might identify the strata within which the traces of human activity at planetary scale might be found. But even in that form, it has a strong imaginary and narrative dimension, which points to the need to connect the humanities to the natural and social sciences in making sense of planetary impact, planetary solidarity and planetary responsibility while avoiding the excessively anthropocentric implications of much Anthropocene thinking.
In the video (available in French only), which was recorded in 2015 for the Environmental Humanities Portal, John Crowley offers reflections on the distinctive value of the environmental humanities in the face of planetary dynamics.
Connecting Gaming to Philanthropy
"Gaming for Good" has become big business, particularly in the field of e-sports. Schemes already exist to allow players to have fun while also giving some of what they win to causes they care about. Gaming platforms can also add to the philanthropic pot. And all of this is being further transformed by new forms of tokenization.
PHGD is working with a number of entrepreneurs to extend the concept of gaming for good to a wider range of games, including puzzles and quiz games, and to relate it to philanthropic advertising schemes. A key condition for this is to imagine innovative platforms, using blockchain technologies, to enable transparency, credibility and scalability of the connection between giving and investing.
Understanding Trust in Contemporary Societies
It's become something of a cliché that contemporary societies suffer from a trust deficit. Public and private institutions – even science itself – are regarded with suspicion, with sometimes corrosive consequences. There's certainly no way of designing and implementing a strategy for environmental transition without a minimum basis of trust in its knowledge base and in the institutions responsible for it.
But how does trust actually work? How, in particular, can the level of trust in a particular setting be assessed?
Working with PHGD partner TrustInside, we're using the proprietary "Tree of Trust" model, developed by Pierre Winicki, to enrich trust concepts and methods and help institutions promote and cultivate trust.
One important area in which issues of trust are of crucial, even vital, significance is peace. However conflicts arise, they typically erode trust between individuals and communities. And conversely, lack of trust creates the conditions in which conflict potentials can be actualized.
In the video, recorded at a 2020 economics conference in Paris (content available in French only), John Crowley offers some ideas on what it would mean, as UNESCO's Constitution puts it, to "build the defences of peace in the minds of men".